Generator Sales Melbourne
Eastern Generators carry leading brands including caterpillar, Himoinsa and Pramac. So we will have the generator to match your right application and budget.
Comprehensive Service
Delivery, installation and after sales support all included as standard.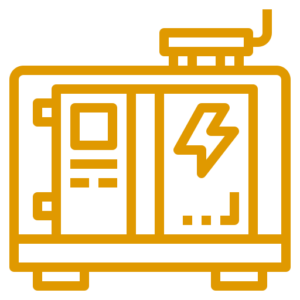 Premium Range
We sell only premium branded generators.
Expert Knowledge
Speak to one of our experts regarding the right generator for you.
Eastern Generators Sales Difference
All of our generators come with manufacturer's warranty and personalised maintenance plan.
Our experienced team can design a generator package to suit your specific needs, including a full site assessment and electrical installation.
We only stock the most reliable, industry leading brands, tried and tested by our decades of expertise in the field.
We don't just sell generators, we live and breathe power solutions. Our services include end to end support from delivery and installation, to service and maintainence programs.
We provide 24/7 service and onsite refuelling to ensure that your generator keeps you up and running.
We sell an extensive range of generators from renowned and trusted brands such as Caterpillar, Himoinsa & Pramac. All new generators come with a full manufacturer's warranty and we also offer maintenance plans to ensure that you're never left without power.
One of the world's leading brands in power generation, Caterpillar generators are built to world-class standards, for high efficiency, low fuel consumption, and global emissions compliance.
We offer the GC – Standby Range and the GC – Critical Range.
Himoinsa Compact Series diesel generators are powered with Yanmar's economical & reliable diesel engine and backed by a full manufacturers warranty ensuring you peace of mind.
We offer the Compact Series, HSY Series, HYW Series and the HRYW Series.
Pramac GSW offering covers a wide range of generators up to 4000 kVA able to satisfy many requirements, regardless of the field of activity.
We offer the GSW Industrial Range and the GRW Series.
BENEFITS OF WORKING WITH US
Competitive prices
Pricing tailored to your individual needs.

Delivery & Installation
We deliver and install our generators as part of our service.

After Sales Servicing
Providing comprehensive servicing for your generator.
Top Of Range Generators
We only sell generators from reputable brands.
Having backup electricity can save your business and even allow you to operate off the grid, which is why we believe anyone can benefit from our generator sales.
Whether you require a generator to run prime 24/7 or a standby generator in the case of a power outage, our technical sales team at Eastern Generators will find the right unit for you
If you're worried about having to maintain a new generator that you purchase, don't. As we provided servicing and regular maintenance of your new generator. We will also deliver and install your new generator to where ever you are.
If you're unsure of the what generator you need/want our team of professionals with years of experience can help point you in the right direction.
Eastern Generators stock a wide range of new and used, ex-fleet generators for sale.
We stock only the most reliable, industry leading brands that come with a full manufacturer's warranty, plus Eastern Generator's maintenance plans to give you that extra confidence when you buy. Our experienced team can design a generator package to suit your specific needs, including a full site assessment and all electrical and installation works as required.
Whatever your project or industry, Eastern Generators have generators for sale to suit your needs. With all sizes available, we can solve your power problems.
Are you looking for an affordable, reliable source of power but on a budget? Used diesel generators are a great option for those who want to get the most bang for their buck.
Diesel generators provide energy-efficient solutions that don't break the bank, making them the perfect choice for those on a budget. Invest in a used diesel generator with Eastern Generators today.
By purchasing a pre-owned diesel generator, you are actively making an eco-friendly decision and simultaneously diminishing the demand for newly manufactured generators. This, in turn, helps reduce energy consumption and resource utilisation.
Investing in a pre-owned diesel generator will provide you with multiple advantages such as cost savings, immediate availability, proven efficiency, minimised depreciation and decreased ecological damage.
All of our generators come with a minimum 1 year warranty.
Why would I need a generator?
Generators are crucial for providing backup power during outages caused by storms, grid failures, or maintenance. They ensure continuous power supply for homes, businesses, and critical facilities like hospitals.
What types of generators are available?
There are mainly two types: portable generators, which can be moved around and are suitable for temporary use, and standby generators, which are permanently installed and provide seamless, automatic backup power.
How often should I maintain my generator?
Regular maintenance is crucial. Consult the manufacturer's guidelines for specific intervals, but basic maintenance might include changing oil, checking fuel levels, and testing the system periodically.
How long can a generator run continuously
Run-time depends on the generator's fuel tank capacity and load. Smaller portable generators might run a few hours, while larger standby generators can run for days with proper fuel supply.
How noisy are generators?
Portable generators can be noisy, ranging from 50-100+ decibels. Standby generators are quieter, often around 60-70 decibels due to their enclosed design.